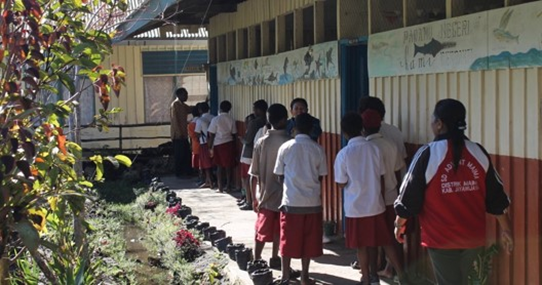 UNICEF is striving to address the needs of children and families affected by the global pandemic, and the power of partnerships is more important than ever. In Indonesia, UNICEF is working with both international and local civil society partners such as Yayasan Setara to address the critical needs of vulnerable children and communities.
With the world's fourth largest child population of 80 million children, UNICEF's involvement in Indonesia has expanded over the years thanks to partnerships with civil society. UNICEF with CSOs have been part of the first responders that have helped to rapidly mobilise resources during the COVID pandemic to reach more communities throughout the country.
In 2021, UNICEF together with the Setara Foundation are running several programs including the SAFE4C (Safe and Friendly Environment for Children) Program, PKSAI (Integrative Child Social Welfare Center), ROOTS (Building Prevention Program), and Positive Discipline.
We distributed personal protective equipment to 35 city districts, including cities with integrated child welfare services. We also held online activities for children on Covid-19 prevention and other life skill programmes. Hidayatul Soleha, Programme Coordinator Yayasan Setara (UNICEF Partner)
Partnerships with civil society are not just making a difference in Indonesia, the same stories are being repeated in other countries. Every year, UNICEF partners with over 4000 civil society organisations in 190 countries delivering life saving aid to children and vulnerable groups. We're also harnessing technological resources to increase the effectiveness of our partnerships with civil society.
UNICEF has also introduced a partner reporting portal, which is helping to simplify reporting processes and enable both civil society partners and UNICEF offices to effectively track the results of programme partnerships.